The purpose of an endorsement is to use one's influence, that is, the influence of the endorser to attract support for the endorsee; hence it is very important and necessary for an endorsement to be plain, simple and in clear terms in order to achieve this purpose.
It is impossible for Ayo Balogun(WIZKID) being an ambassador for the United Bank for Africa(UBA) to flaunt or even exhibit anything associated with other banks as long as the contract between himself and UBA stands, a default in such would likely lead to a law suit. That is a clear endorsement where Wizkid uses his influence to promote the bank.
In politics as well, people of influence are needed to endorse some other political aspirants to garner support and votes for them. That is, the supporters and loyalists of a particular figure become obliged by reason of their support for the person to also support and vote for the aspirants.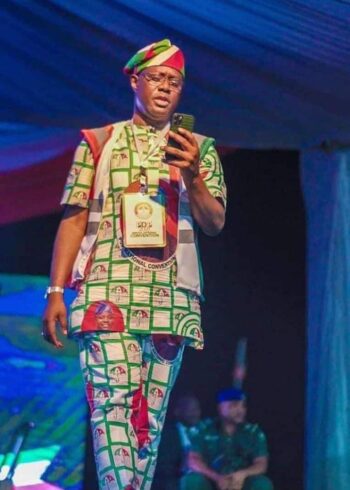 It is therefore necessary that the person of influence clearly poses his support to the aspirants to demonstrate to his followers the path to tread in their political support for him. Else, it won't effect its purpose of influence if those to be influenced do not understand the message and call to tread the selected path.
APC or TINUBU has nothing to gain from SEYI MAKINDE'S SUPPORTERS IF SEYI MAKINDE DOESN'T CLEARLY DEMONSTRATE TO HIS FOLLOWERS THAT THEY SHOULD JOIN FORCE WITH THEIR CAMP; IT DIVIDES THE STRUCTURE RATHER THAN REINFORCES IT.
It is therefore unnecessary for TINUBU supporters to be claiming AN UNCLEAR ENDORSEMENT.
In fact, to say that the Deputy Governor endorsed the supposed candidate on the note of his speech is to say that TESLIM FOLARIN has also accepted to step down his aspiration for SEYI MAKINDE with his statement that he is ready to work with Makinde in Oyo State.
Meanwhile, Governor Makinde's stance on the issue of Presidency is clearer at some joints: PRINCIPLES.
The Principle of being a staunch and ardent believer in being committed to AGREEMENTS.
In my opinion, I rather regard Governor Seyi Makinde as someone who distinctly recognises administrative proceedings and constitutions. A man who REPRESENTS YET WITHOUT BIAS.
Upholding his commitment to his natural descent, his tribe, representing his kinsmen and pleading their cause yet committed to responsibilities that transcends tribalism.
He posed this by being one of the major forerunners of what is presently serving as a template for community policing in Nigeria; AMOTEKUN CORPS; a major stake in RESTRUCTURING.
He is currently posing this in his Party by insisting on the restructuring of the Party to ensure inclusivity; meanwhile, he hasn't in any way declared against the Presidential aspirant of the Party, as he remains a member of the PDP and remained committed to the future good of the Party.
Seyi Makinde is rather what Nigeria needs; what most leaders have professed without the guts to fight for or implement; a leader who stays committed to his persons and people and yet accommodates and propose policies that suits a multi tribal Nigeria; a leader who can distinctly live and lead a country of DIVERSITIES in UNITY.
It is therefore not a mistake that Governor Seyi Makinde is receiving such an award as the iconic AKONI ODU'A of Yorubaland above the likes of Ashiwaju Bola Ahmed Tinubu, Prof. Yemi Osinbajo, and Akinwunmi Adeshina, and at a time as this, yet he belongs to the PDP and remains committed to the Party.
He is an AKONI indeed, he is omo MAKINDE.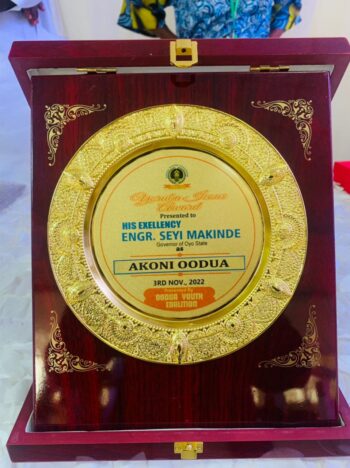 ---
Follow us here  for more news in Oyo State.
Oyo Truth is an independent online news platform/medium reporting up-to-date events, happenings and activities related to Oyo State, Nigeria.