When a dog is long chained, it madly familiarises with its environment at its first release, tearing things apart. Most people are not used to freedom, good governance, and true democracy in Nigeria, then they get overwhelmed and don't have a good and appreciative response to such values and gestures. Such people become allude to processes at their first taste of good living and mostly tend to bite and take advantage of their emancipators in demand for more. It is not always difficult to identify such people as they are always resilient in their show of shame.
It is undeniable that at this point, the status of Engr. Seyi Makinde as the best Governor in Nigeria at the moment, is no longer debatable, as other contenders seem to have been outclassed with his continuous and untiring display of a people centred governance in Oyo State.
And for this reason, and also in confirmation of what tends to face development, as expected, naysayers and antagonists have been busy with various propagandas to discredit the unusual implementation of good governance in Nigeria, originating from the Southwest, particularly the pacesetter State, Oyo State. One shouldn't really be surprised because just like the explained case of the dog above, freedom tends to be abused more often by the newly freed; it becomes very difficult to embrace light if you have long been in darkness.
They have at countless times but to their defeat at the exposure to the truth, discredited the impacts of the Seyi Makinde led administration across various sectors in the State, but most recently, they have picked on the youths. The reason for this is not far-fetched as it is politically apparent that for once in this generation, the youths are beginning to be a major factor in electioneering processes as more youths become politically aware and actively involved. So, it has become expedient that players woo the youths to their sides for support and votes.
However, it is too late for any reasonable player to just begin at this time, to woo the Nigerian youths where we have players who have by default before this period, made the youths the centre of their political activities and governance via identification, inclusion, policies, programs, interactions and engagements, and these, on very large and laudable scales. Hence, the youths can see between those who only want to seize the moment for the sake of that which is imminent, and those who have always focused on their true emancipation.
Before now, youths were rather tools in the hands of political persons and are mostly recognised for thuggery and violence. Students bodies which largely consists of youths are usually canvassed in large numbers to violently create structures for the highest bidder; but the emergence of Seyi Makinde as the Governor of Oyo State has ushered in civilization of these structures as the Students' structure has conducted several elections under this administration and has unusually recorded no violence. While previous administrations thrive in the incessant and periodical power tussle between road union leaders of the NURTW, the Seyi Makinde led administration has rather proposed and implemented a work in progress and promising Park Management System(PMS) guided by disciplinary code and conducts to put all excesses in check.
This is the doing of an administration which esteems peace, potentials, people and properties, over selfish and ambitious interests that put youths into vulnerable situations of either brazing up violently or losing out of the political structure. This is why in today's political system in Oyo State, we can now count numerous young people who by virtue of the opportunity bestowed upon them by this administration, are now serving as role models to other teeming youths in the State and beyond.
This is also why in today's political system in Oyo State, rather than violence, it has become a competition of intellects and potentials amongst youths to earn a place in the political structure of the State, and unarguably, this administration has given youths a more enabling environment to thrive, and only those who find it inconvenient to thrive in such progressive environment due to their violent nature, will say otherwise.
The Seyi Makinde led administration has witnessed much influx into the State not only by investors but youths alike want to serve and work in Oyo State, and reasons are not far fetched as the State has provided enabling policies and schemes such as including Youth Corp Members as paid interns in the administrative proceedings in the State.
On October 12, 2020, Governor Seyi Makinde made record by identifying with the youths during the EndSars protest in the State making the administration enviable by other Governors and protesters across other States, allowed youths to showcase their grievances through a peaceful protest while reiterating that protest is an essential part of democracy.
Many only clamour for development but do no appreciate a long term and sustainable future built on fundamental solutions or how else do we explain those who accuse Governor Seyi Makinde of neglecting the youths despite the sustainable, fundamental, and gigantic project of the Lekan Salami Sport Complex, Adamasingba?
Just recently, starter packs were distributed to 181 beneficiaries of the State-led Skills for Job (S4J) of the Youth Employment and Support Operation (YESSO) to set youths on the roll to being self employed and self sufficient.
Another major milestone that is worth being classified as long term and sustainable is the training but yet to be empowered over 3,000 youths in the Youths Entrepreneurship in Agribusiness Programme organised in Nassarawa, as it poses a rejuvenation of agribusiness in Oyo State, setting a sustainable template for economic advancement, as empowerment of some beneficiaries have also kicked off.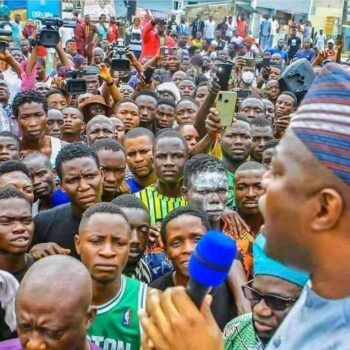 8
With the disposition of Seyi Makinde towards other affairs of the State and the youths alike, it is only expedient that progressive minded young persons and youths who don't want to eat agbado, who believe in the administration and are unlike the exemplary newly freed dog as cited at the beginning of this article, will trust this process, patiently tow this roadmap and make preparations to usher in the roadmap for sustainable development, as these are all but foundations and features of the acceleration level.
We however appreciate that most people have high expectations of Seyi Makinde as it is evidence of a promising administration and a democratic governance.
Only youths who want to eat agbado will revolt and every well meaning youths in the State are equally prepared to intellectually put them in their place as we have accelerated and we wouldn't tolerate selfish and greedy persons who want to live as impediments on our journey to prosperity and sustainable development like the naysayers and doubters in the times of Joshua and Caleb.
---
Follow us here  for more news in Oyo State.
Oyo Truth is an independent online news platform/medium reporting up-to-date events, happenings and activities related to Oyo State, Nigeria.